MEET ROMI
"I do my best to be + live in the moment, always striving to become a better person everyday."
My name is Romi (pronounced "row + me"). I am a digital artist + NFT artist under mundo_da_romi. I am Japanese + Italian, born in São Paulo, Brazil, currently residing Miami, FL, USA. Portuguese for, "romi's world", the name is inspired by where I come from, and how I interpret my world as a visual artist + interior designer. I do my best to be + live in the moment, always striving to become a better person everyday.
My art pieces + designs
I <3 art + design. Plain and simple.
My artwork grants me the freedom of imperfection through organic free forms, where my design work allows me the continuous search for perfection. I am obsessed with creating colorful, playful art pieces that are inquisitive to the human spirit. I want my pieces to foster evocative, yet unbiased conversations for how humans can interpret the definition of "reality". This is how "my emojions" series was born. The perfect blend between "emojis" + "emotions".
My current goal is to create 222 pieces associated with "my emojions". I want to capture the essence of society in a light spirited way through our connection + play with the ubiquitous emoji. The number "222" comes from my fascination with numerology. It is commonly associated with good fortune + life balance.
My method
Most of my original pieces are carefully produced onto Archival Quality Fine Art Bamboo Paper (Hahnemuehle) because of its rapidly renewable properties. I then add what I refer to as my "superflat sparkle" touches through a variety of mixed media, giving each original piece an added level of serendipity for those who gaze upon it. All color compositions are heavily influenced by my synesthesia, a neurological condition where I see numbers + letters in color by creating unexpected color compositions.
In 2022, I began to explore NFT's + how to incorporate augmented reality activation onto many of my pieces via ArtiviveApp, a free app for anyone to download on to any smartphone. Here's a quick sample of "Don't burst my bubble" that I showcased during ArtBasel week.
My commitment
Because sustainability is an important factor to who I am as an artist + small business owner, I donate 10% of net sales towards planting trees. If interested in finding out more, visit trees.org.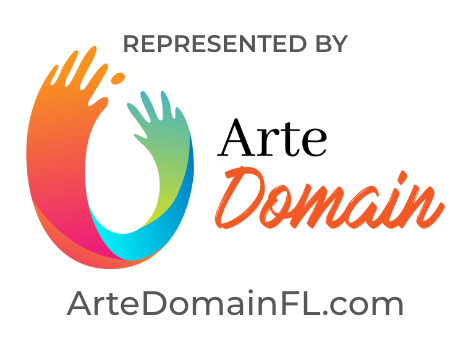 ARTE DOMAIN
We believe in art, and Arte Domain offers its services as an artist's gallery. Putting the selected artist's artwork at your reach.
There are many disputes about whether the artist is born or made. We are one of those who believe that everyone has an artist inside them. Everyone is born with the seed of art within them. You just have to water it, put love in it, bring it to the light and ventilate it so that it grows and becomes big and beautiful.
LEARN MORE ABOUT ARTE DOMAIN
See more of Romi's work at
www.mundodaromi.com